Utah's Only

Photo Camper
A unique photo booth serving Salt Lake City and the surrounding area
Meet Photo Camper
A 1968 Roadrunner Camper Trailer, our Photo Camper has been fully restored. If restoring campers is your thing, check out our Instagram for the latest renovation updates. She's been a part of weddings, corporate events, birthday parties and more! 
Honestly, what's more Utah than camping? That's why she's the perfect addition to your gathering.
Every booking includes photo printouts for your guests (AKA hassle-free party favors), a centralized digital photo album, and flexible scheduling. With the Photo Camper, your party will be an experience your friends rave about for a long time.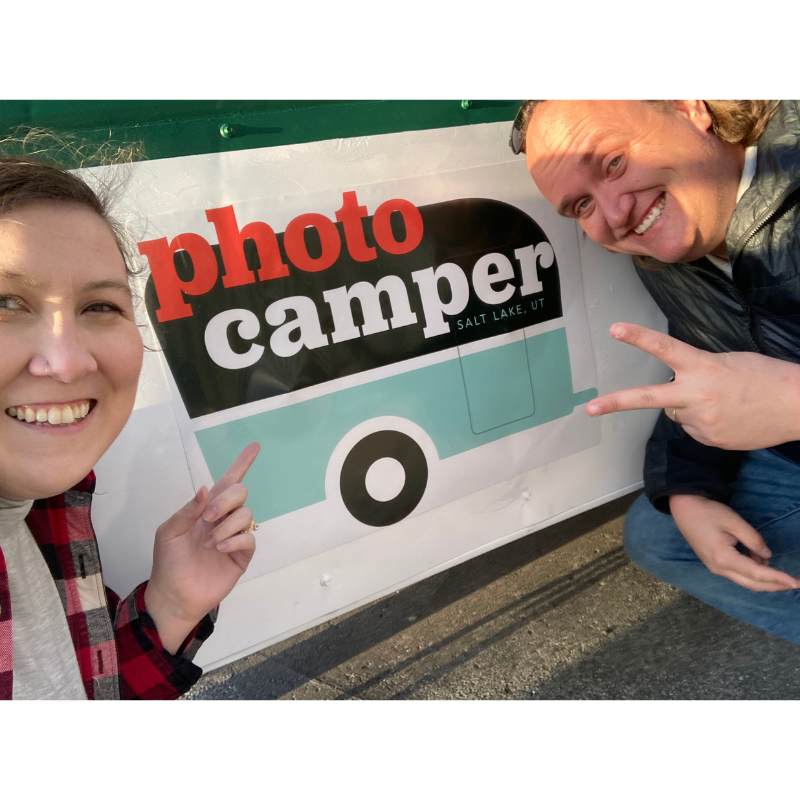 Meet the Owners
When we first met, we bonded over our mutual love for hosting friends in their home. Roger is always in charge of the food – especially if it includes smoked meat. I play the role of sous chef and decorator. (Be thankful I'm not in charge of the food!) We love having people in home, but our goal has always been to ENJOY our party rather than flitting around like overwhelmed hosts. 
This has become the mission of the Photo Camper. We want you to be able to host your party and ENJOY it rather than worrying about the details. Gone are the days of worrying about the unique details of your party on your own! 
When we're not hosting a game night or cookout, you can find us spending time with our daughter Madi and three dogs (Max, Lucy, and Beau). 
Let us take the stress out of planning!
Memorable, high-quality fun.
OK, we were BLOWN AWAY with the Photo Camper! Everyone kept telling me how fun it was and how happy they were with it at our event.  The props are so fun and the photo strips are so cute! We will definitely have them back for an event!
The cutest photo camper ever! Such a fun twist to a photo booth for events! The quality of photos was great too. Definitely recommend!
I love the Photo Camper!
A must have at any event.
Photo Camper did an amazing job at our event. Everyone loved it and the team did an excellent job at making sure it all ran smoothly We will definitely be using them again.